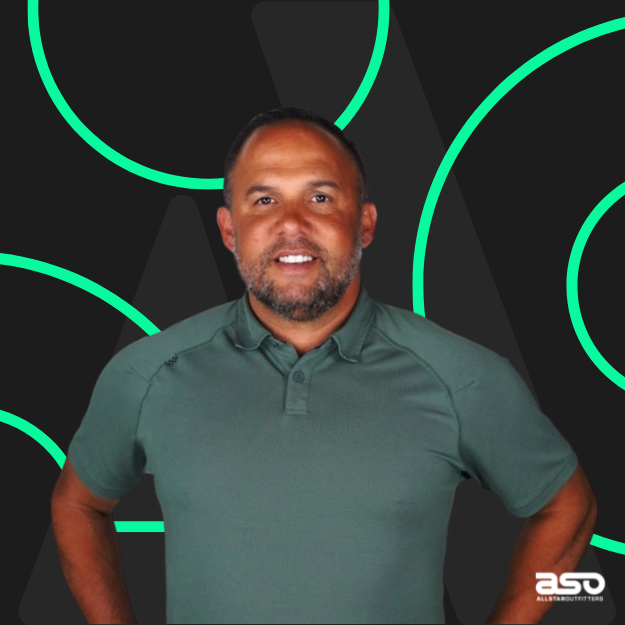 Mike Martinez
President
Mike graduated with a Bachelor of Arts from Cumberland College in 1996. Prior to opening ASO, he founded and served as president of a cheerleading event producing company with revenues at the time of sale of more than 4 million dollars. He also developed marketing and operating systems for businesses that are still used today amongst other companies and financial management systems as well as policies and procedures for all aspects of the business. He is a member of the Knoxville Hispanic Chamber of Commerce and the Visit Knoxville Business Committee. He enjoys spending his free time with his wife of 15+ years and his twins, Walker and Willow.
J.G. Ketchen
Vice President
J.G. graduated from the University of Illinois with a double major in Finance and Economics in 2003. While attending the U of I, he was a four year letterman on the Men's Gymnastics team and was co-captain of the team his senior year. After graduation in May of 2003, J.G. moved to Knoxville, TN to help Mike Martinez start All Star Outfitters. He enjoys spending time and traveling with his wife Mary and his four children Jada, Maya, Trey, and Kara. He also enjoys shooting guns at the shooting range as well as following college and professional sports of all kinds.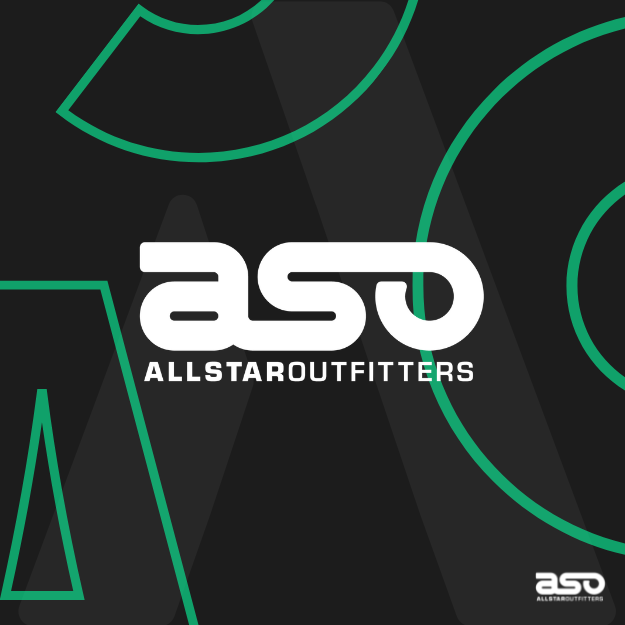 Shane Cureton
General Manager
Shane graduated from Carson-Newman University with a degree in Financial Economics. Before working for ASO, Shane held positions as a manager of operations, revenue protection, training/development at UPS and sales manager at Lowe's. He enjoys spending time outdoors, golfing, camping, kayaking, hiking, and listening to music.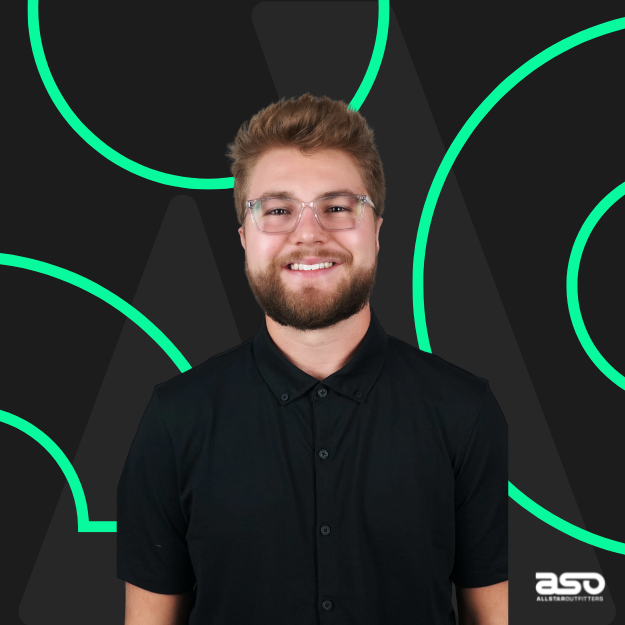 Christian Hammond
Director of Operations
Christian has been working for ASO for over 5 years. He has worked in several different fields from being a Sale Rep, Shipping & Receiving, even to Event Coordinating. Christian is a quick learner & always looking to absorb more. He clings to the motto the more keys you hold, the more doors you can open. He excels at thinking outside of the box to create better chances & more opportunities for maximum success. When he's not at work you can find him & his wife Regan trying to corral their 11 month old Tatum & their Australian Shepard Kaia.
contact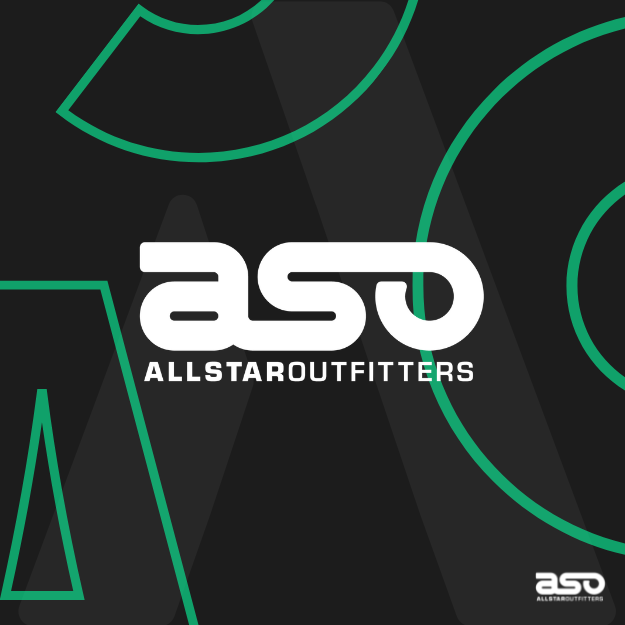 Landon Hensley
Director of Marketing
Landon graduated from Carson-Newman University with a degree in Business Administration and Marketing in 2020. Graduating in the middle of a global pandemic made it difficult to find a job, so he and his sister opened two of their own nutrition shops in the heart of Hardin Valley and Karns. The experience from owning and operating two stores is why he fits right in with ASO, helping manage the climbing number of events and improving marketing and inventory. Outside of work, he and his wife Chelsea enjoy spending time with friends, family, and their dog Maui. He is also a sports enthusiast who enjoys hiking and traveling.
contact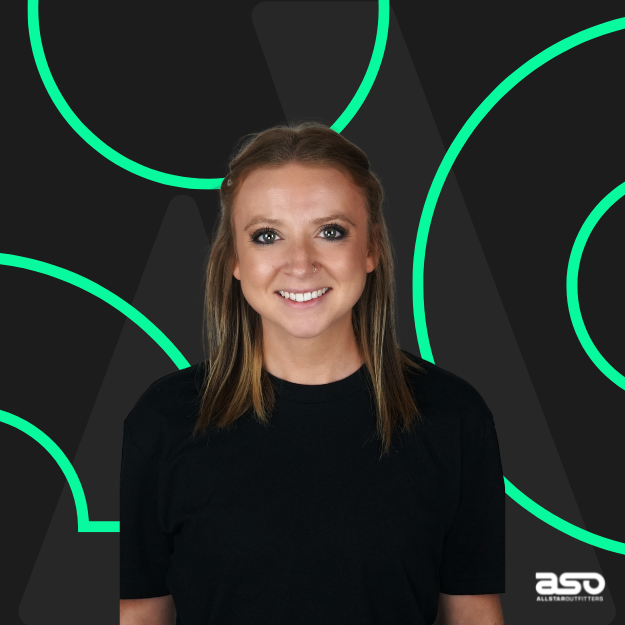 Rachel Hurst
contact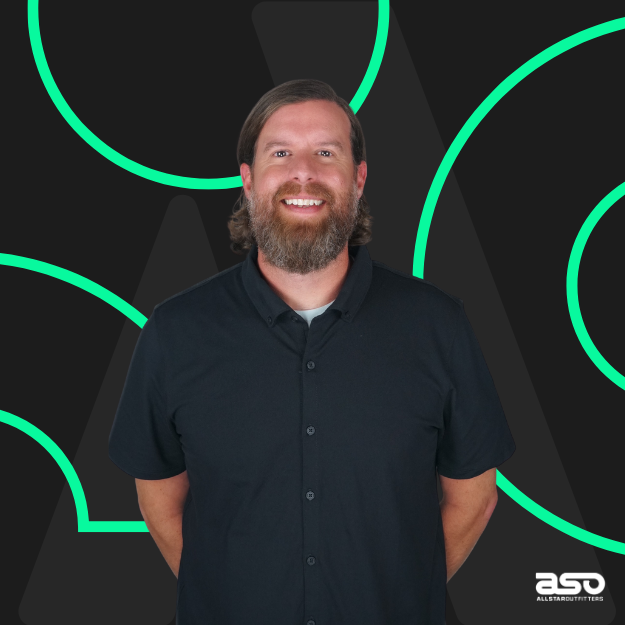 Steve Hines
Director of Awards & Digital Media​
Steve graduated from the University of Tennessee with a degree in Communications and Broadcasting. He was an on-air radio personality for a decade before transitioning into freelance video production on local and nationally televised programs.  Steve worked his way through college at a local sign company, so when he was approached by team ASO to become a part of the digital print and awards department, it was a perfect fit. His knowledge and experience will ensure the perfect product for you every time.  Away from work, he and his wife, Rebecca, enjoy live music, travelling, sports, movies, the outdoors, the indoors, spending time with their friends, loved ones, and their furry 4-legged companions, Colt and Monkey.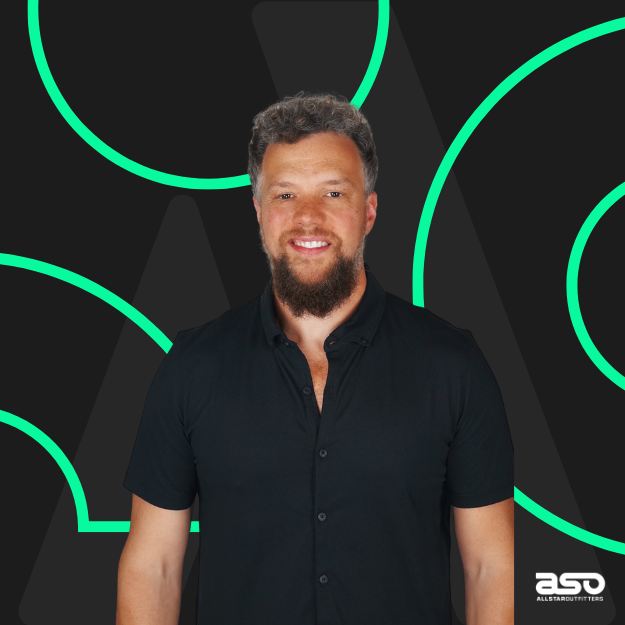 Cozmo Holloway
Director of Purchasing
Cozmo spent many years floating the lazy river through and around the University of Tennessee's fine campus full of architectural marvels; 7 years to be exact. It was a long time indeed, however he did not leave empty handed. Cunningly, he convinced the university to award him two Master's Degrees (Business and Marketing with a Teaching Concentration, Theory of Education) and a Bachelor's Degree (Human Resources and Development) which are still rolled up in the orange and white cardboard tubes to this day (15+ years later) While in college, Cozmo discovered the electric guitar and honed his ability to administer rippers in a public forum. Eventually that led to 8 years of full time touring with rock n roll band, The Dirty Guv'nahs. Before making the leap to that rock and roll life, Cozmo served as the production manager/screenprinter for a nonprofit social enterprise called Tribe One. In addition, he served as the head printer for Nothing Too Fancy Print Shop during the Guvs two year touring hiatus. In the second phase of his life/week, Cozmo enjoys playing guitar rippers with his two bands (The Dirty Guv'nahs, Electric Darling), listening to guitar rippers, and eating medium rare ribeyes.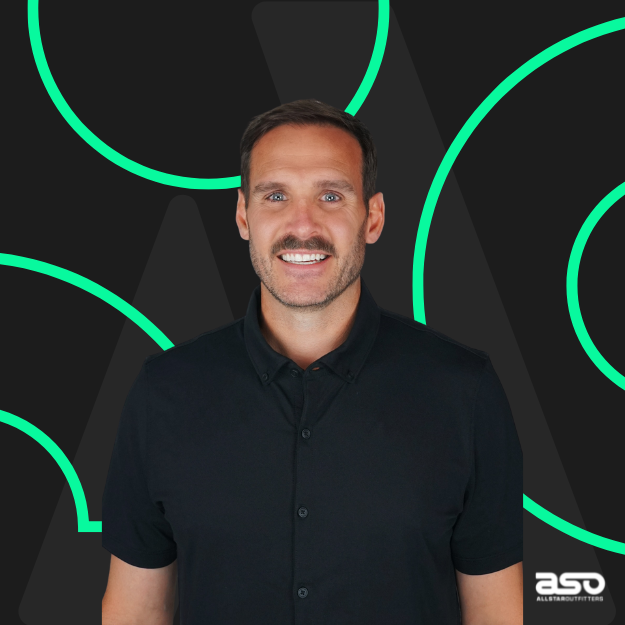 David Grigsby
Director of Sales
David is known for creating win-win-win-win-win situations.  Before joining Team ASO, David came from Knoxville's Non-Profit world as the Social Enterprise Director of Tribe One's Screen Printing business where he mentored youth and made some awesome shirts.   David graduated from Tennessee Tech with a Marketing Degree and played baseball for 4 long years.  Over the last 10 years, he has worked in almost all phases of the product embellishment business.  Always keep in mind that having a 10 minute conversation with David on a front porch has been proven to have the same health benefits as 12 servings of raw, non-GMO foods. 
contact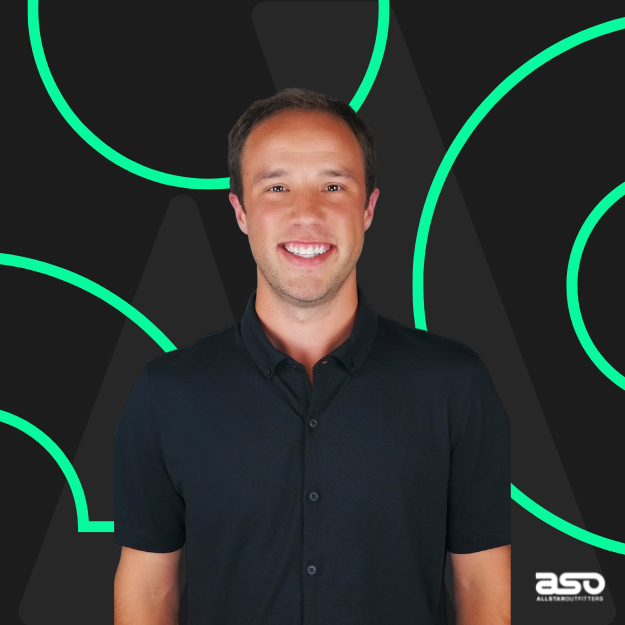 Bailee Dick
contact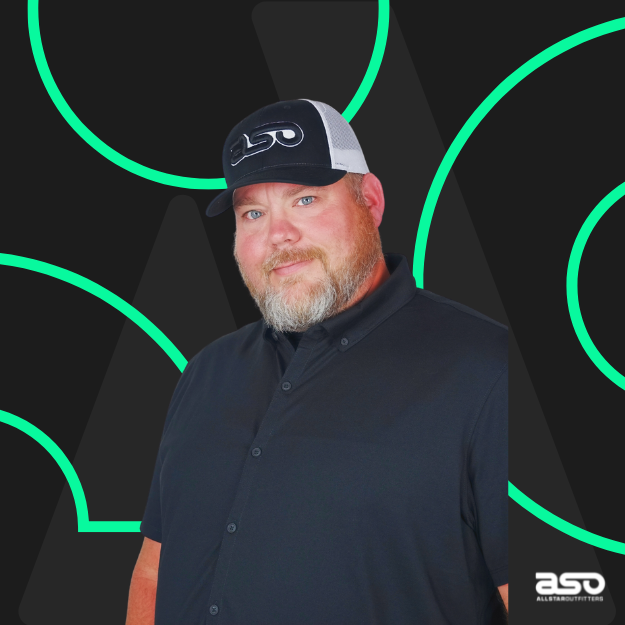 Brian "Dub" Norfleet
Event Opperations Manager
-----
contact
Jeanne Potter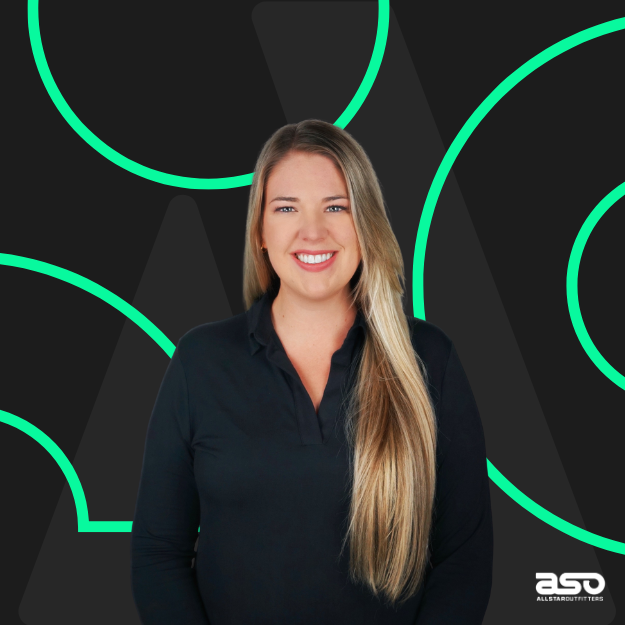 Katelyn Scarpino
Creative Director
A lifelong love of illustration led Katelyn to study at the Savannah College of Art and Design. After graduating in 2011 with a B.F.A. in Sequential Art (basically a degree in drawing comics!), she worked in a number of creative fields, everything from product photography to designing Christmas ornaments. Katelyn came to ASO in 2015 and still can't get over how amazing and fun screen printing is. If anything in her life rivals her love of art, it can only be her love of animals. She and her husband Joe have 2 oversized rescue dogs and spend all their spare time waiting on them hand and foot.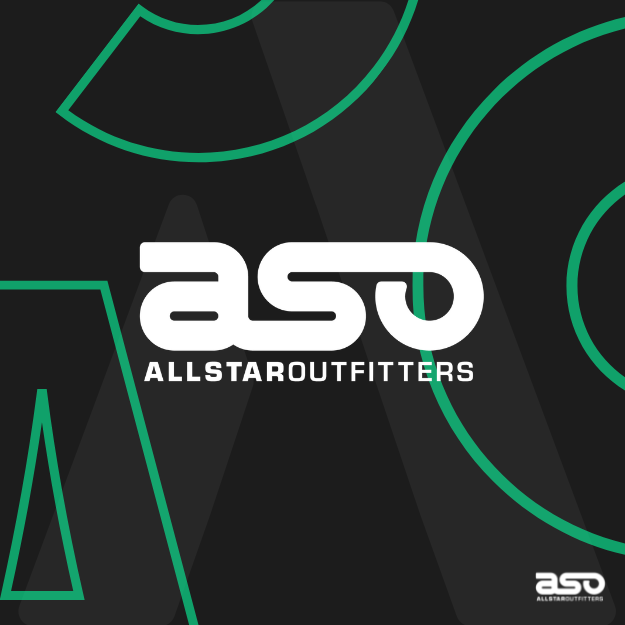 Beau Bowers
Graphic Artist
Upon falling in love with an amazing woman, Beau wanted to seal the deal. However, she found out he was unemployed and didn't want to go further. Beau lied and said he had a job, even though he normally would just hang out all day doing nothing. Well one day, she wanted to follow Beau to work. He walked into a random office, which happened to be the offices of ASO and just sat down at a desk. But from that point on, she thought he worked there. So every day for 6 months, Beau would come to ASO and "work". One day though, he was fired. Beau told them "You can't fire me, because I don't work here." They said "well, since we fired you, we now have an opening, do you want a job?" And the rest is history.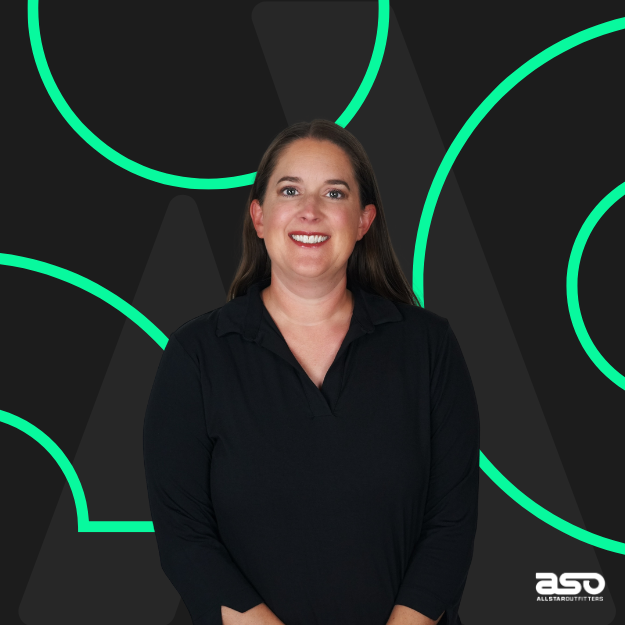 Jennifer Dzermejko
Graphic Artist
Jennifer graduated with a BA in Fine Arts with an emphasis in Graphic Design from MTSU in 1999.  She has worked in screen print shops in both Charlottesville, Va and Knoxville, Tn and spent 2 years with a newspaper on the coast of south east Georgia.  In addition to the fast-paced world of screen-printing, her 6-year-old son and 2-year-old daughter keep her busy.  She and her husband, Jonathan, enjoy to travel and explore new places with their kids.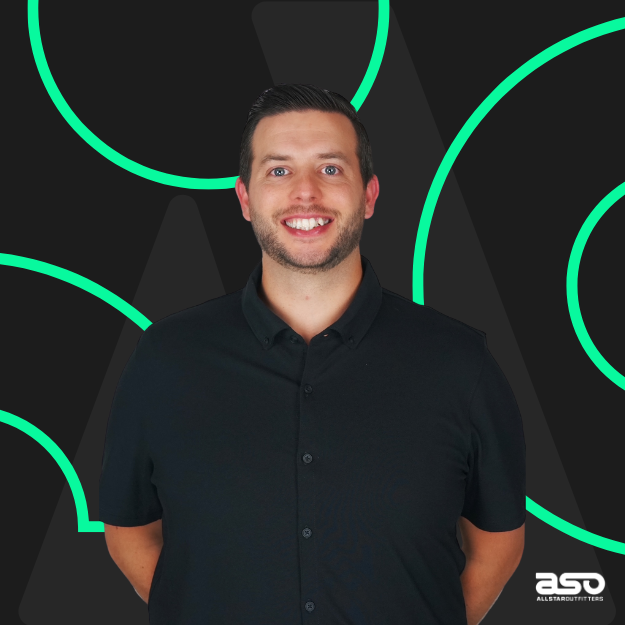 Chad Fields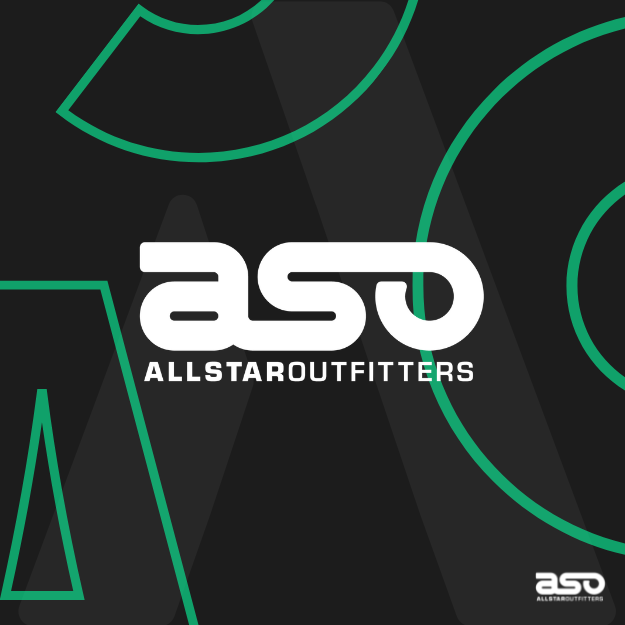 Jessica Sarmiento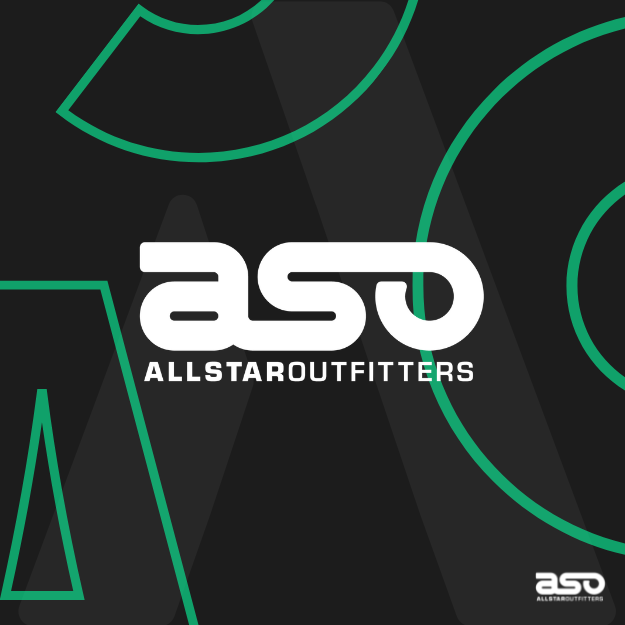 Sebastian Bernudes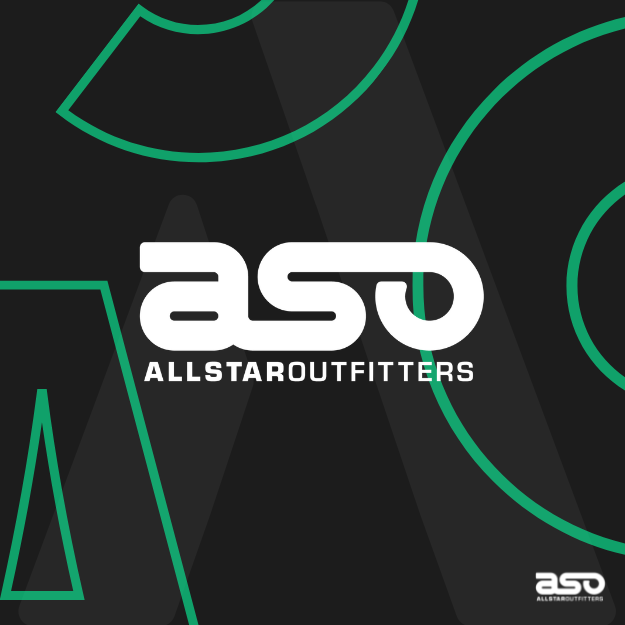 Production Team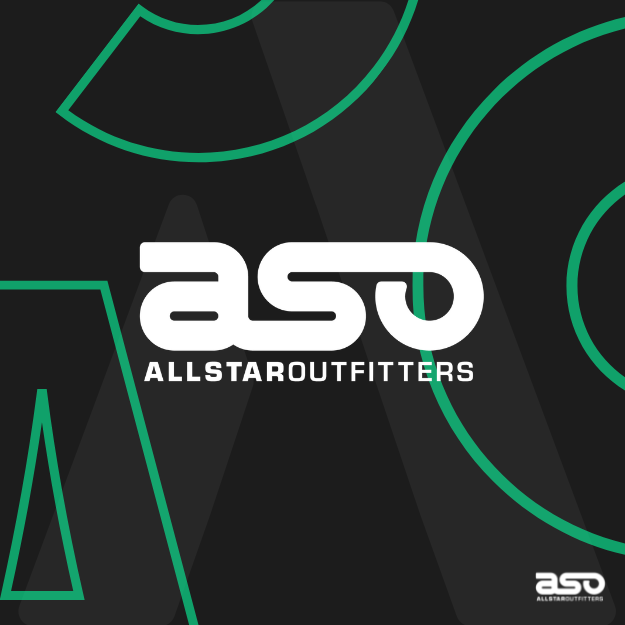 Jeff Mize
Shipping & Receiving Manager
-----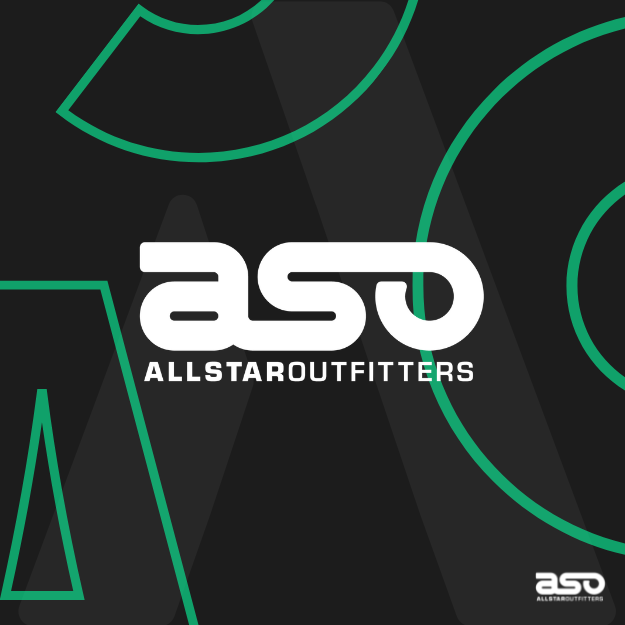 Steven "Tony" Merida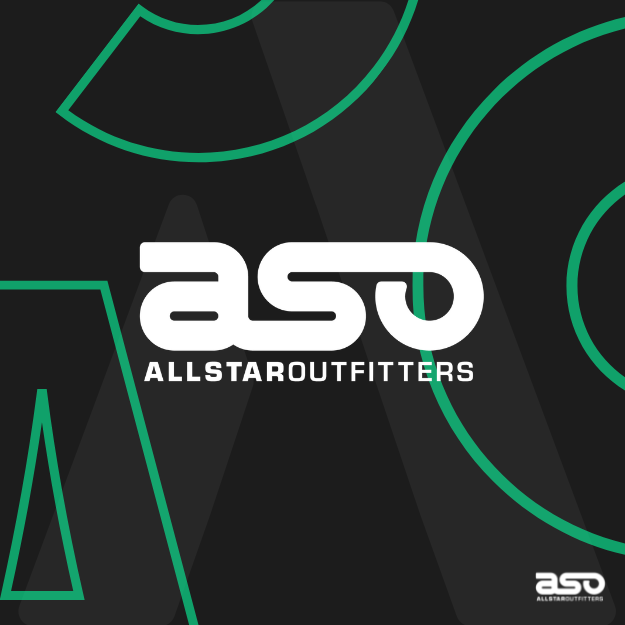 Warehouse Team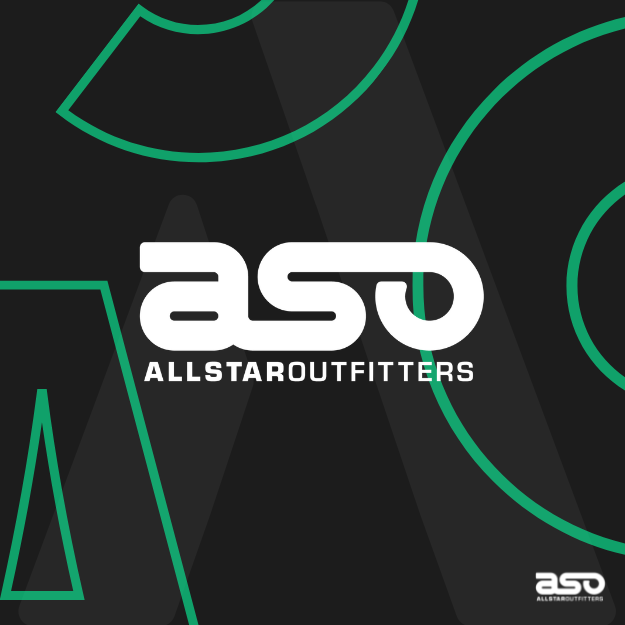 Nicki Carney
Louisville Event Opperations Manager
Nicki began working in the event merchandising world during college and has held many different roles over the last 16 years. Things have changed a lot since then, but she has loved every aspect of the industry. She started with All Star Outfitters in 2016 and has thoroughly enjoyed being a part of the growth and evolution of such an amazing company. Nicki has been married to her high school sweetheart Bobby for 17+ years and they have two boys Liam-11 and Max-8. As a Family they love to take cruises and chill on the beach!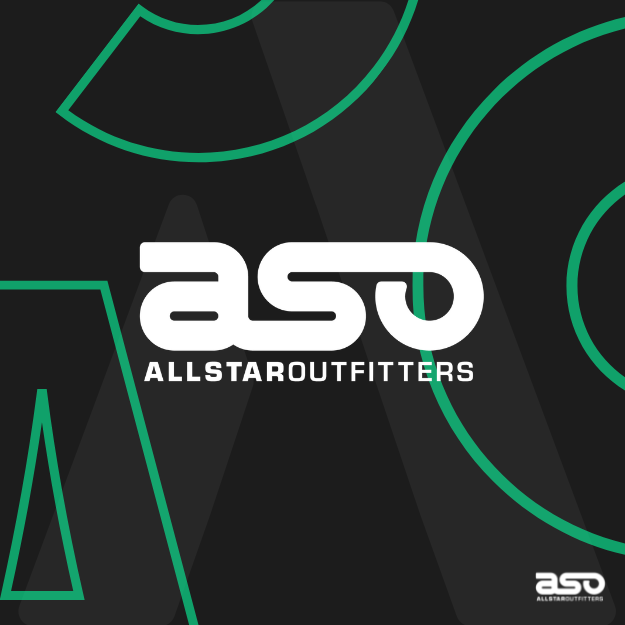 Amanda Fow
Louisville Event Opperations Manager
Amanda graduated from the University of Louisville with a Business Management degree in 2004.  While attending UofL, she was a member of the All-Girl Cheerleading squad where her team won 3 NCA Collegiate National Titles.  Amanda began her career in the cheer apparel industry shortly after graduation and brings 19 years of experience to our team.  Her son Nixon and daughter Blakely keep her very busy with their school and sports schedules.  When she is not taxing them from one place to another she loves to get away and travel with her husband, Nick.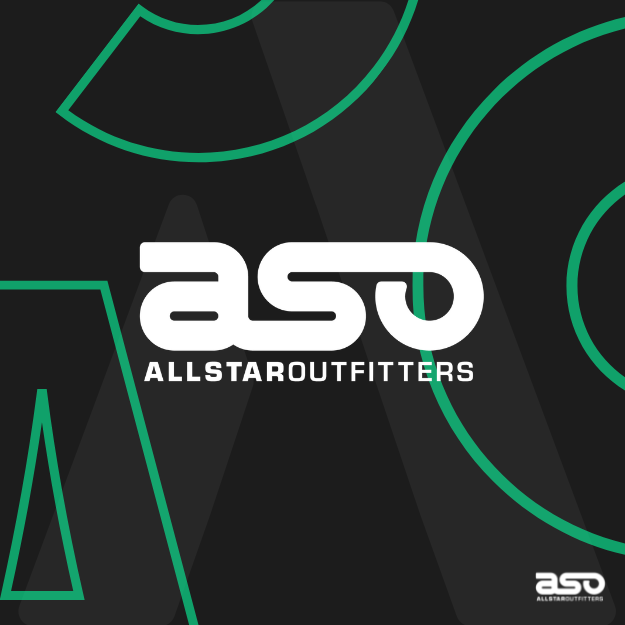 Dillon Frazier
Vegas Event Opperations Manager
-----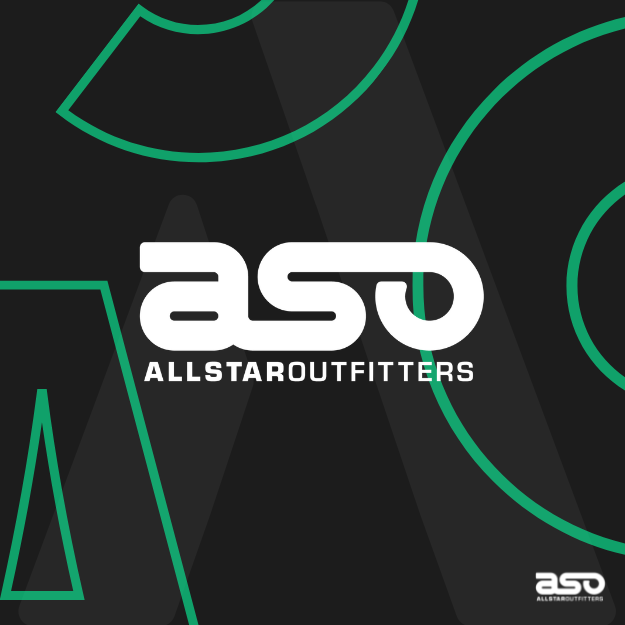 Robert Meyers
Baltimore Event Opperations Manager
-----
Check out our Retail items!